(From Sang Jinqiu of Communication Acoustics Laboratory)On Sept. 12th 2008, Professor Zeng Fangang, Hearing and Speech Director in Department of Otolaryngology, University of California, Irvine, visited the Institute of Acoustics (IOA) and gave a lecture titled "Current Research and Development of Psychoacoustics and Hearing Recovery Research".
Prof. Zeng is currently Research Director in the Department of Otolaryngology--Head and Neck Surgery, and Director of the Hearing and Speech Research Laboratory at the University of California, Irvine. He has more than 100 publications in these areas including two papers in science magazine and 8 patents in the design of cochlear implants. He has given more than 200 presentations at national and international professional meetings, including 60 invited or keynote talks. He won the First Prize of American National Health Institute in 1994, the Best Employee Prize in the House Ear Institute in 1997, Chinese Oversea Outstanding Youth Fund (B Class) and Inventional Prize in University of California in 2005. Prof. Zeng has resumed research projects more than 15000000 dollars as a principal. He is currently a member of the NIH Integrative, Cognitive, and Functional Neuroscience Study Section 6 and associate editor of five International well-known academic journals which are IEEE Transaction on Biomedical Engineering, JARO, HEARING RES, JSLHR and consultant of three companies including Silicon Valley Hearing Technology Company.
During Dr. Zeng's visit, he was warmly welcomed by Prof. Yang Jun, Prof. Li Xiaodong (Director of Noise and Vibration Laboratory), Prof. Yan Yonghong (Director of ThinkIT Speech Laboratory ), Prof. Wang Donghui (Digital System Integration Laboratory) and Prof. Feng Haihong (Director of JiaXin Acoustic Branch, Chineses Academy of Sciences). Before Prof. Zeng gave his report, Director of Chinese Deaf Children Recovery Center Sun Xibin gave a summary of current development of national deaf children recovery work. Many experts on hearing recovery field also took part in the lecture.
Dr. Zeng gave a vivid lecture on introduction of the research of hearing recovery and technology of electric cochlear. Dr. Zeng's research focuses on the encoding of sensory information in normal and impaired auditory systems. They try to understand how simple attributes of sounds, such as loudness and pitch, as well as how complex sounds, such as speech and music, are encoded in the peripheral and central auditory systems. They address these questions by integrating information obtained from normal-hearing listeners, hearing-impaired listeners, and cochlear-implant listeners whose hearing is partially restored by electric stimulation of the auditory nerve. After the lecture, he also enthusiastically answered questions from listeners and the discussion furthered our understanding of the hearing recovery research and application. This report gave us a valuable chance to learn current electrical cochlear research and development.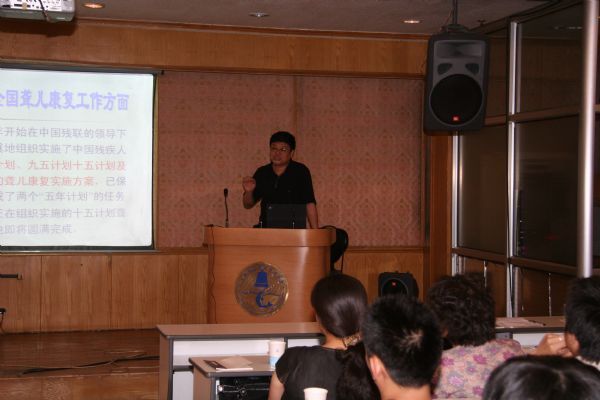 Director of Chinese Deaf Children Recovery Center Sun Xibin gave a report.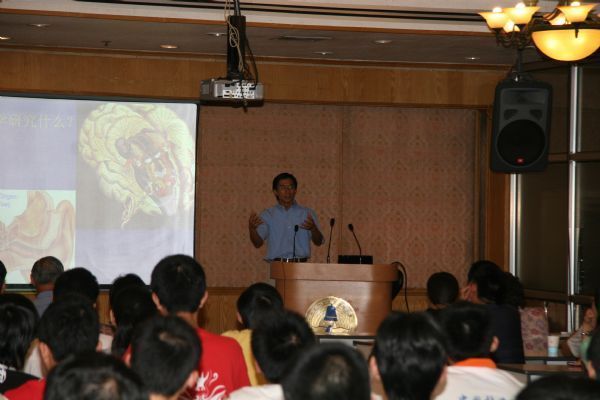 Prof. Zeng Fan-Gang gave a lecture.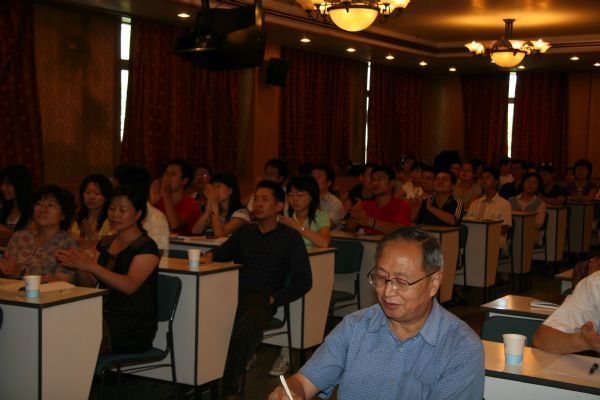 Listeners of the Lecture.