We saw in the last section that sound travels through the air as vibrations in air pressure. To hear sound, your ear has to do three basic things:
Direct the sound waves into the hearing part of the ear
Sense the fluctuations in air pressure
Translate these fluctuations into an electrical signal that your brain can understand
The pinna, the outer part of the ear, serves to "catch" the sound waves. Your outer ear is pointed forward and it has a number of curves. This structure helps you determine the direction of a sound. If a sound is coming from behind you or above you, it will bounce off the pinna in a different way than if it is coming from in front of you or below you. This sound reflection alters the pattern of the sound wave. Your brain recognizes distinctive patterns and determines whether the sound is in front of you, behind you, above you or below you.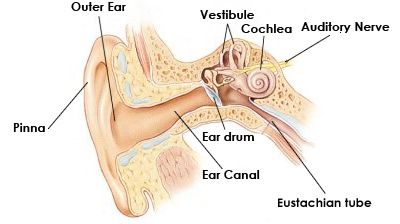 Ear diagram courtesy NASA
Your brain determines the horizontal position of a sound by comparing the information coming from your two ears. If the sound is to your left, it will arrive at your left ear a little bit sooner than it arrives at your right ear. It will also be a little bit louder in your left ear than your right ear.
Bodily Sensations
The nervous system determines the countless sensations we feel all over our bodies every day. How does this work? What causes your leg to feel tingly when it falls asleep? How do you know when you're about to sneeze? This activity from Discovery Channel explains how sensations are produced in the body.
Since the pinnae face forward, you can hear sounds in front of you better than you can hear sounds behind you. Many mammals, such as dogs, have large, movable pinnae that let them focus on sounds from a particular direction. Human pinnae are not so adept at focusing on sound. They lay fairly flat against the head and don't have the necessary muscles for significant movement. But you can easily supplement your natural pinnae by cupping your hands behind your ears. By doing this, you create a larger surface area that can capture sound waves better. In the next section, we'll see what happens as a sound wave travels down the ear canal and interacts with the eardrum.
(Source: How stuff works?)